$15.99

$31.98
Wine Bottle Lights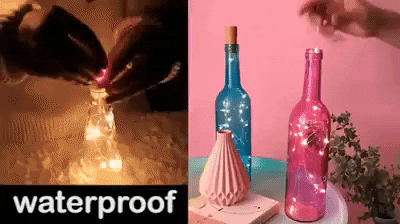 The Wine Bottle Lights is inspired by your CREATIVE SIDE. Create a romantic atmosphere! This Special cork is shaped for most bottles.The lights are made with a fine bendable copper wire that can conform to any shape that you desire.
The LED lights are Energy-Saving and Environmentally Friendly, these lights are perfect decorations for holiday projects. 
More Details

Length: 2m LED strip with 20 Mini LED lights within the strip
Voltage: 6V
Waterproof:  Yes! IP65 Waterproof
Plug Type: Beam Angle 350 degrees
Power Source: Dry Battery
Battery: Not Included 
Fast - We are dedicated to filling your order quickly, accurately and with unmistakable finesse.
Golden Rule. We treat you the way we want to be treated as consumers: with the utmost respect.
Notifications - Get the peace of mind of receiving E-mails or texts messages about the movement of your package!
Instagram - We love showcasing the beauty and styles of all of our customers. Message/Tag @CocoaLynx on Instagram and let us feature you!
Charity - A portion of each sale is dedicated to improving Mental Health. Check out our about me page for further details. Click Here